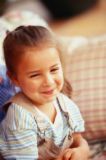 Basically, that's my problem. I'm ALWAYS thirsty.
It doesn't really bother me, other than the fact that I go through every liquid in the house like it's nothing. I don't know why though.
I know it's a symptom of diabetes, but I've been tested for that already and I'm not diabetic. I've been like this since I was a kid. Seriously, it freaks me out because everyone will be on their first glass of water, milk, juice, etc. and I will easily be on my 5th or 6th. Seriously, I don't know why I'm always so thirsty! Any ideas?